As just discussed in our most recent post "Settlement reached in Florida Keys seven mile bridge fatal car accident" head-on crashes in the Florida Keys is all too common. Yesterday, 22-year-old Kristine Rivera was killed when the vehicle she was in, operated by Didier Miles, 24, slammed head-on into a taxi that was stopped on Overseas Highway, waiting to make a turn.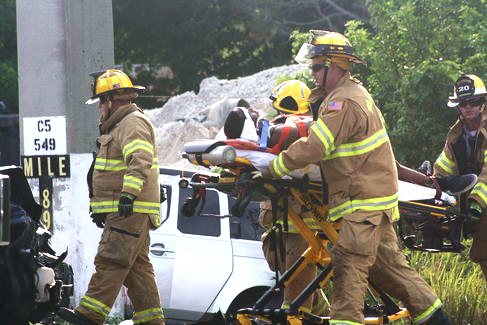 Islamorada Fire-Rescue firefighters wheel Didier Miles to an ambulance Monday evening. (Photo taken by David Goodhue- Courtesy of KeysNet.com)
Details of the accident have yet to be released to the public, however it is likely that speeding and/or distraction may have been the cause for the umpteenth time. A witness came forward and said to a Miami Herald reporter that Kristine Rivera, the now deceased woman, rear-ended his vehicle approximately 4 miles south of where the fatal accident occurred.