Yesterday, the annual Fantasy Fest was drawing to a close, but countless visitors and locals will not forget several terrible accidents which caused Overseas Highway to be shutdown for several hours by police.
Monroe County Sheriff's Deputy Becky Herrin told the Sun-Sentinel that they "expect heavy traffic, possibly with a bottleneck in Islamorada that sometimes stretches to the Long Key Bridge. Our roads can only hold so many cars. And Fantasy Fest pretty much maxes out our traffic."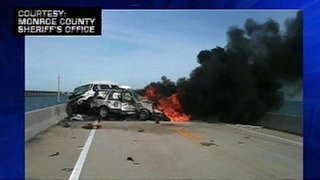 During the last weekend of the festivities in Key West, Florida Highway Patrol and numerous Sheriff's Deputies responded to more than 21 motor vehicle accidents. One of them involved the collision of a motorcycle with another car at mile marker 29.5 in Big Pine Key. One of the two people on the motorcycle was severely injured and rushed to Fishermen's Hospital in Marathon where he was pronounced dead. The second occupant was flown to Miami by helicopter for further medical treatment.
Several hours earlier, two vehicles collided at mile marker 41 on the seven-mile bridge, which required the emergency rescue and transport to three people to Fishermen's Hospital.
Over the years, the road to and from Key West has seen thousands of car accidents, with many resulting in fatalities. The causes for these crashes are often times attributed to speeding, alcohol, or texting. A study has revealed that between 2006 and 2010, Monroe County averaged 1,329 car accidents every year. Also, in the last 34 years, ending in 2009, the number of fatal car accidents throughout the county of Monroe was drastically higher than the average for the rest of the state of Florida. In the past ten years, there have been more than 220 fatal accidents in Monroe County.
Leesfield Scolaro have established their offices in Key West over three decades ago and have been a staple in the personal injury landscape in Key West and throughout the Florida Keys.

The Key West Personal Injury Lawyers of Leesfield Scolaro have resolved countless personal injury claims on behalf of local Key Westerners and out of state visitors who were injured during their stay in the Florida Keys.
If you have been injured in a car accident in Key West, or on Overseas Highway, contact one of our Key West Personal Injury Attorneys at 1-800-836-6400 for a free consultation.