Every year the Coast Guard, Florida Marine Patrol, and local law enforcement agencies note a marked increase in injuries and deaths stemming from the negligent and careless operation of marine craft and water recreational vehicles. Ira Leesfield, Chairman of the Resort Torts Section of the American Association of Justice, has written extensively on this topic pointing out "it is not just small water craft but jet ski, parasailing, and small water related activities that are contributing to the high incidents of serious injuries in the Florida keys". Tourists and visitors from all over the United States and abroad descend on the Florida keys for the beautiful waters of the Gulf of Mexico and Atlantic Ocean as well as inland waterways.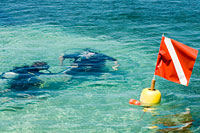 The firm of Leesfield Scolaro has promoted water safety and the necessity of regulating parasailing activities which coupled with snorkeling, diving, fishing, and boating are a huge industry for Monroe County residents. Now, there is an added safety fact as cell phone use and texting creep into the prevention and safety issues surrounding water activities that require full concentration.
This firm is now seeing boating collisions where an operator was distracted by cell phone use and in recent years the death of a Key West child was indirectly linked to the boat operator's cell phone inattention. Unquestionably the news for that weekend will be an unnecessary loss or tragedy which could have been prevented by greater diligence and better enforced navigational rules. The waters surrounding the Florida keys are a majestic natural resource which must be treated with respect. Just recently, we are seeing injuries and deaths related to diving and pool activities including electrocution from water source. Leesfield Scolaro completed a $10 million result for electrocution from a faulty pool wire. Families must be on the look out and diligent to watch their young children in any water related environment. Hotels and other forms of lodging must be careful and selective about which vendors they allow to use their facilities for the purpose of water recreation rental.

During Leesfield Scolaro's 35 year history of litigating boating and water navigation injuries, the common themes are always drinking, horseplay, and inattentiveness. For specific articles, safety manuals, and Coast Guard reports please go to www.Leesfield.com.
Preventing boating and water sports activities has been a long-time goal of partner, Ira Leesfield who suggests the following preventive measures:
1. Make sure that all equipment is inspected and functional;
2. Be sure that personal safety devices and life preservers are functional and in particular they are mandatory for children under 12;
3. Know the "rules of the road" for boating and water sports;
4. Make sure rental equipment operators are reputable, bonded, and insured;
5. Do not allow the water craft operator to drink alcoholic beverages and be sure there is always someone designated who is not intoxicated;
6. File a boating plan with a friend or authority if you are going to be gone over night;
7. Check all weather conditions and be sure radio and communication equipment is fully functional;
8. Bring enough provisions, food, water, and clothing for appropriate circumstances;
9. Be familiar with all Coast Guard rules and regulations;
10. Do not allow under age children to operate an over power vessel.
Every year, in the Florida keys and Key West a tragic and unnecessary number of visitors and residents are involved in boating and water sports injuries and deaths. Many of these incidents are avoidable with the use of common sense and proper training. The litigation and undertaking of maritime cases has been part of our practice for over 30 years. Careful attention has been paid to releases, waivers, and the application of maritime law. Often overlooked with insurance available from the point of purchase (rental) of the equipment involved in accident, ancient maritime doctrine may govern such as Death on the High Seas Act (DOSHA) and the application of the litigation and exoneration federal doctrine.
The law firm of Leesfield Scolaro located at 615 ½ Whitehead Street in Key West has been serving out of state visitors and local citizens of Monroe County since 1973. For a represented list of the cases successfully completed, please go to www.leesfield.com or call 1-800-836-6400.